Close


×
UPDATE REGARDING COVID-19
We would like to inform all our guests that within our premises, we are undertaking all necessary actions to ensure the highest standards in sanitation and hygiene.

1. We have carried out and will continue carrying out extensive sanitization throughout all of the property's areas, both indoors and outdoors.

2. Our staff and / or collaborators are constantly being advised on the best ways to maintain a sanitized, hygienic environment in all areas under their supervision.

3. We have increased the time intervening between check-out and check-in, to between 11am and 3pm (state ordinance)

We are applying special care to this sensitive issue and assure you that we will continue with the same diligence in all actions we undertake.

Note that every single one of the hotel's rooms has an independent entrance, accessible from outdoors.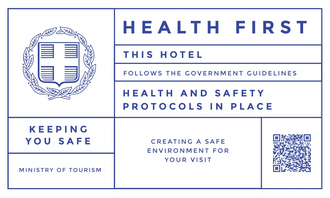 CANCELLATIONS
As far as potential cancellations are concerned due to COVID-19 related issues, we will exhibit understanding and flexibility. By way of indicative examples, cancellations caused by changes / cancellations of flights by decision of the airline or the authorities of the country of origin, or cancellations due to someone contracting the virus, will be handled with flexibility from our end, in order to reach the most appropriate solution.